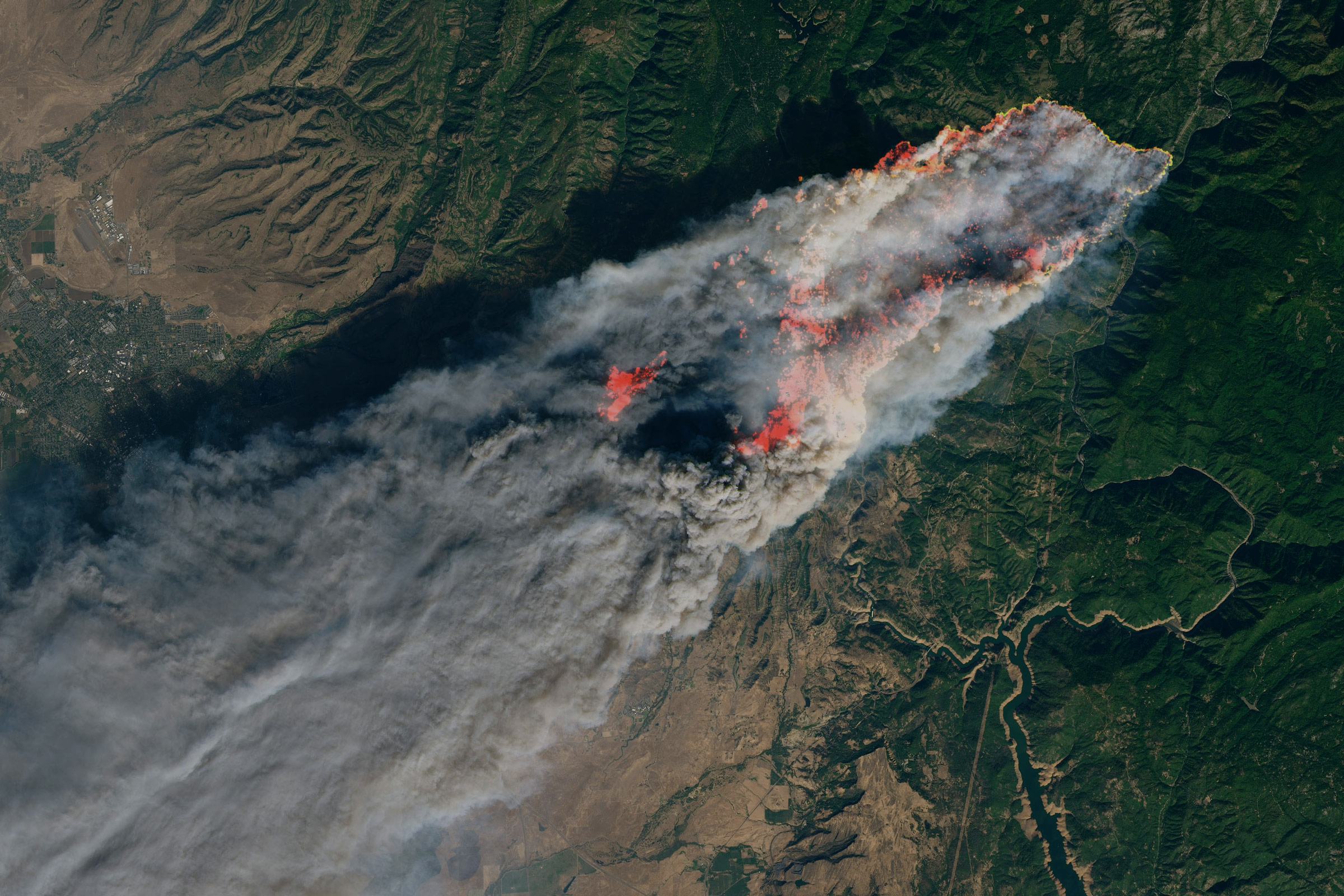 Camp Fire
Early in the morning on Nov. 8, 2018, PG&E transmission lines near Paradise, CA sparked the Camp Fire, which would kill 85 people and destroy $16 billion in property, making it the deadliest and most destructive fire in California history.
But these numbers, horrific as they are, do not begin to convey the scope of devastation. Paradise, California, once a town of 26,000 residents, is effectively gone. Neighboring communities of Concow and Magalia were also destroyed, and in total, more than 50,000 people were impacted. Many of these people became refugees, relegated to forming makeshift settlements in nearby Chico, most infamously in a Walmart parking lot that would become known as "Wallywood." In crowded shelters, many refugees became acutely ill with norovirus. Many months later, Chico is still struggling to find housing for everyone, and liability payments to victims are in limbo as PG&E maneuvers for debt forgiveness in bankruptcy court.
Air Quality Effects
As the fire burned uncontained for weeks, smoke billowed into nearby towns and into the San Francisco Bay Area. Air quality was listed at "dangerous" levels and residents were advised to avoid being outside. Schools and businesses closed. Businesses and city programs struggled to keep up with demand for the N95 masks capable of filtering harmful particles from the smoky air. Groups such as DSA San Francisco and Mask Oakland distributed free masks to anyone in need. When the fire was finally contained on November 25, nearly three weeks later, many had a new appreciation for the clean air they had once taken for granted.
All of this was ignited by PG&E's equipment, and all of it could have been avoided.
PG&E to Blame
While Cal Fire's full report has not been released due to possibility of criminal investigation against PG&E, the summary report notes two ignition sites, both a result of damaged PG&E transmission lines near the Poe Dam in Pulga. The report also names a failure to properly trim vegetation near the equipment, which if true puts PG&E in violation of state law and fits a pattern of profit driven cost-cutting decisions that PG&E management has become known for. Most inexplicably, PG&E management chose not to invoke a reactive last-resort safety power down policy, explaining the decision only by saying "We chose not to implement the public safety power shut off in any location."
As we head into fire season again, it is clear that a decision to power down should be made transparently by fire safety experts, not by wealthy bureaucrats also weighing the potential impact on stock prices. The victims who have lost everything must be properly compensated by the company whose practice of ignoring risks in favor of profits caused that devastation. And we must ensure that a disaster like the Camp Fire never happens again.